Carbide Stud Sharpening Tools (Professional Series) 60 Degree
$149.95
Our Professional Series Tools operate similarly to our Standard Series Tools but are designed to operate at much higher RPM's (10,000 minimum), using pneumatic or electric grinders. These tools use superior quality diamond cutting media which provide for longer life, making it a simple and cost-effective way to put a new tip on all your studs, without removing them from your track. Why buy new when you can re-sharpen at a fraction of the cost.
Stud is re-sharpened at 60 degrees. 60 degree tip provides excellent trail riding grip, superior durability and long life
Fast and effective two stage sharpening process using the same tool
Sharpen all the studs in you track in minutes
BITEHARDER's AdvantEdge™ Sharpening Technology provides the best tip for handling and performance:

Carbide Studs stay sharper over a longer period of time
Better traction and control of your machine results in a much safer ride regardless of conditions
Bite into any surface including hard pack, ice and asphalt
BITEHARDER – Allowing you to experience the maximum performance and safety your snowmobile has to offer, every time you head out on the trail.
---
Carbide Stud Sharpening Tool – Pro Series Use Instructions
HOW TO MEASURE YOUR COILING SPACING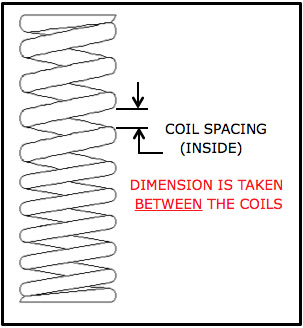 With your front coil springs adjusted for your individual riding style, measure the distance between the coils (See Diagram), with your machine on the ground under its own weight.