12 Volt Carbide Grinder
$139.95
The BiteHarder "12 volt carbide grinder" is a powerful, light weight grinding tool that allows you to sharpen your carbide runners, using the power from your snowmobiles battery, for convenient anywhere/anytime runner sharpening
Ergonomically designed for ease of use, yet small enough to carry with your snowmobiles tool kit
Sharpen your carbide runners without the need to carry a cordless drill
Precision machined aluminum housing for durability and light weight
Stainless steel shaft collar allows for single screw mounting of our standard series carbide runner sharpening tool
Quality electrical components for years of care free operation

High torque motor sharpens your carbides in the shortest amount of time possible
Universal "trickle charger" style connectors
Convenient on/off switch

Comes complete with battery connector cable, eight foot longextension cable, and carrying case

Optional twelve foot cord available

For use with BiteHarder's standard series portable carbide runner sharpening tools only (not recommended for our use with our professional series tools)
Convenience, innovation, safety and performance. just what you expect from BiteHarder
The BITEHARDER 12 Volt Carbide Grinder is a powerful, lightweight grinding tool that allows you to sharpen your carbide runners, using the power from your snowmobile's battery, providing convenient anywhere/anytime runner sharpening.
Ergonomically designed for ease of use, yet small enough to carry with your snowmobiles tool kit, our "12 Volt Carbide Grinder" lets you sharpen your edges without the need to carry a cordless drill.
A precision machined aluminum housing provides strength with light weight, and a stainless steel collar allows for single screw mounting of our STD Series Carbide Runner Sharpening Tool.
For use with BITEHARDER's Standard Series Portable Carbide Runner Sharpening Tools only (not recommended for use with our Professional Series Tools).
Convenience, innovation, safety and performance. Just what you expect from BITEHARDER.
Unit shown with Standard Series Carbide Runner Tool Installed – Tool not included.
---
CARBIDE SHARPENING 12 VOLT GRINDER Use Instructions
HOW TO MEASURE YOUR COILING SPACING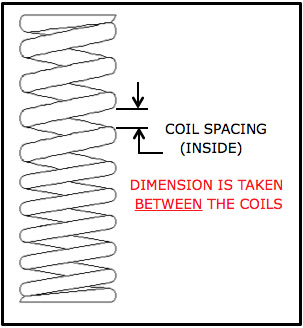 With your front coil springs adjusted for your individual riding style, measure the distance between the coils (See Diagram), with your machine on the ground under its own weight.